Are you stuck on the whole "getting married thing"? Think your game has a glitch or missing something? Here's a guide all about getting hitched & it's requirements to help you determine whether you are experiencing a glitch or just missing some actions.

Note:
It is
not possible to get married or engaged to Game Center or Facebook Friends
. This feature is only available to in game characters.
✰
Be Engaged
(Duhhh) xD ~ Achieve
♥
1250 Points
to get engaged
✰
Be on Level 13 or higher
~ This is now the new level required for marriage
✰
Gain
♥2
500 Points ~ This is the required score to get married
Charlene will call asking you to meet a wedding planner at The Silver Shellfish at The Coast after you have reached 2500 Relationship points & have had the conversation about the wedding with your fiancé. You will get the goal
The Planner
.
The wedding planner will suggest 2 locations to get married:
✰
O' Love in Las Vegas: 3000 Cash
✰
Wedding in Tahiti: 50 Stars
The wedding planner will tell you to meet with your fiancé to discuss the options. You will get the goal
I Thee Wed
. When you meet with your fiancé, you will be able to pick where you want to get married. If you choose Tahiti, the flight is free.
You will get the goal
The Big Day
. Once you've arrived at the chosen location the ceremony commences. The wedding lasts as long as you stay in the chapel/island. It is over after you have said your vows & leave the chapel/island.
When you are married you do not have to date them in fear of them leaving you. Your spouse acts like a pet, (not literally :P), by giving you Energy & XP Points Every 24 Hours by tapping on them. It is
not possible
to have
children
.
If you are having trouble & have been on lots of dates with your in game partner but the progress is still stuck on
♥
2499
, try the following;
♥
Break Up With
ALL LOVE INTERESTS
♥
Anyone with a
♥
Heart
by their name you must break up with, (except the person you wish to marry)
.
You can do this by clicking the
+
♥
at a Dating Location. Choose who you don't wish to date & select
Break up.
This includes
Game Center & Facebook Friends
.
If you have
Never
been on a date with your GC/FB Friends you may have gained Relationship Points with them via sending gifts. When you have successfully broken up with a contact a
★
Blue Star
or a
Broken Heart
will be next to your GC/FB Friend's Name, depending on whether you have Co-starred with them. When breaking up with a in game contact there should be a
Broken Heart
next to their name.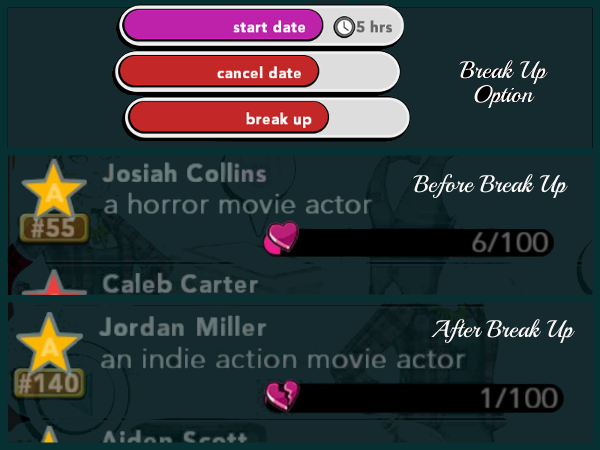 Once you have broken everyone's hearts go to a dating location & start a date with your beloved.
At the beginning or the end of the date, a
Pink Speech Bubble
with a ♥Black Heart should appear. When this is clicked they'll suggest marriage. Star News will pop up with two news feeds & ta-dah! You're on the road to get married!
If you are still having trouble you can try the following.
Please Note: The suggestions below are Not a Guaranteed Fix.
✰
Double check you have broken up with
Everyone
✰
Have a few more dates with your partner
✰
Close Down the Game Completely
. When relaunched check your lover's apartment
✰
Reinstalling the Game
.
Only Recommended for iOS Devices
✰
Submit a Ticket
if the problem persists
✰
Break up & get back together

Note: When T
hey
make the Break Up Call you can get back together by paying Stars & it
Doesn't Reset your progress. I
f
You Break Up with Them
, they will stay in your contacts but they will be unavailable to date for 24 hours or more & have to pay Stars to get back with them.